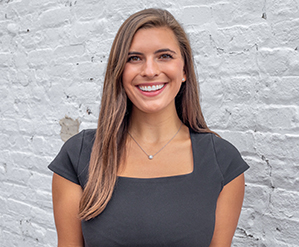 My dream home must-have: A massive entry way with a stunning piece of art and an eclectic light fixture as the focal point. High ceilings and a fancy kitchen are musts, too!
Sydney Warner is a Broker Associate at Weinberg Choi Residential. She developed a passion for real estate at a young age watching family members pursue this career in her hometown. Sydney loves that real estate allows for her to connect with clients on a deep level in order to support them in finding their perfect home. Before joining the team, Sydney was a corporate events planner for a financial firm based in Milwaukee, WI.
Being the youngest of four children, Sydney loves spending time with her family. She has a nephew, Chase and a niece, Harriet that she absolutely adores. Sydney's family lives on a lake so outside of work, she enjoys all sorts of water sports including slalom skiing and wake surfing. She also loves to travel and shop!
Sydney lives in Lincoln Park with her college roommate. Sydney has a degree in Corporate Communications and Entrepreneurship from Marquette University.
Email: sydney@weinbergchoi.com