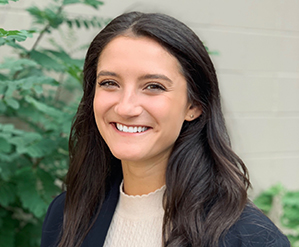 My dream home must-have: A yard with an indoor/outdoor bar and patio with room for a little doggy pool and a fire pit.
Maddie Bonofiglio is the Executive Concierge with Weinberg Choi Residential. She manages the co-founders' schedules and supports them with their emails, she coordinates client events, manages the social media and marketing initiatives, and runs the firm's 365 Days of Giving charity work. Behind the scenes, Maddie makes sure the team runs like a well-oiled machine.
Before joining Weinberg Choi, Maddie was a Midwest Field Sales Representative with KIND Snacks.
She is a certified pilates instructor and has a passion for health and wellness. Her desire to provide the best client experience is the most fulfilling part of her work with Weinberg Choi and while teaching pilates. She has a Bachelor of Science in Food and Consumer Packaged Goods Marketing from Western Michigan University.
Outside of work, Maddie enjoys trying new restaurants, exercising, and cooking and baking for her family and friends. She resides in Lakeview with her fiancé, Willem, and their dog, Louie, and cat, Bruce.
Email: maddie@weinbergchoi.com